The Logicon™ is a caries (decay) software used on your digital radiographs (x-rays) that enhances the detection process for decay on natural and restored teeth. With a few clicks, the Logicon™ detection software applies an algorithm on your digital radiographs (x-rays) so surfaces in between your teeth are tested to generate a graphic analysis of potential decay, helping Dr. Sangiv I. Patel verify if a suspicious lesion seen by the naked eye is of concern or in need of treatment.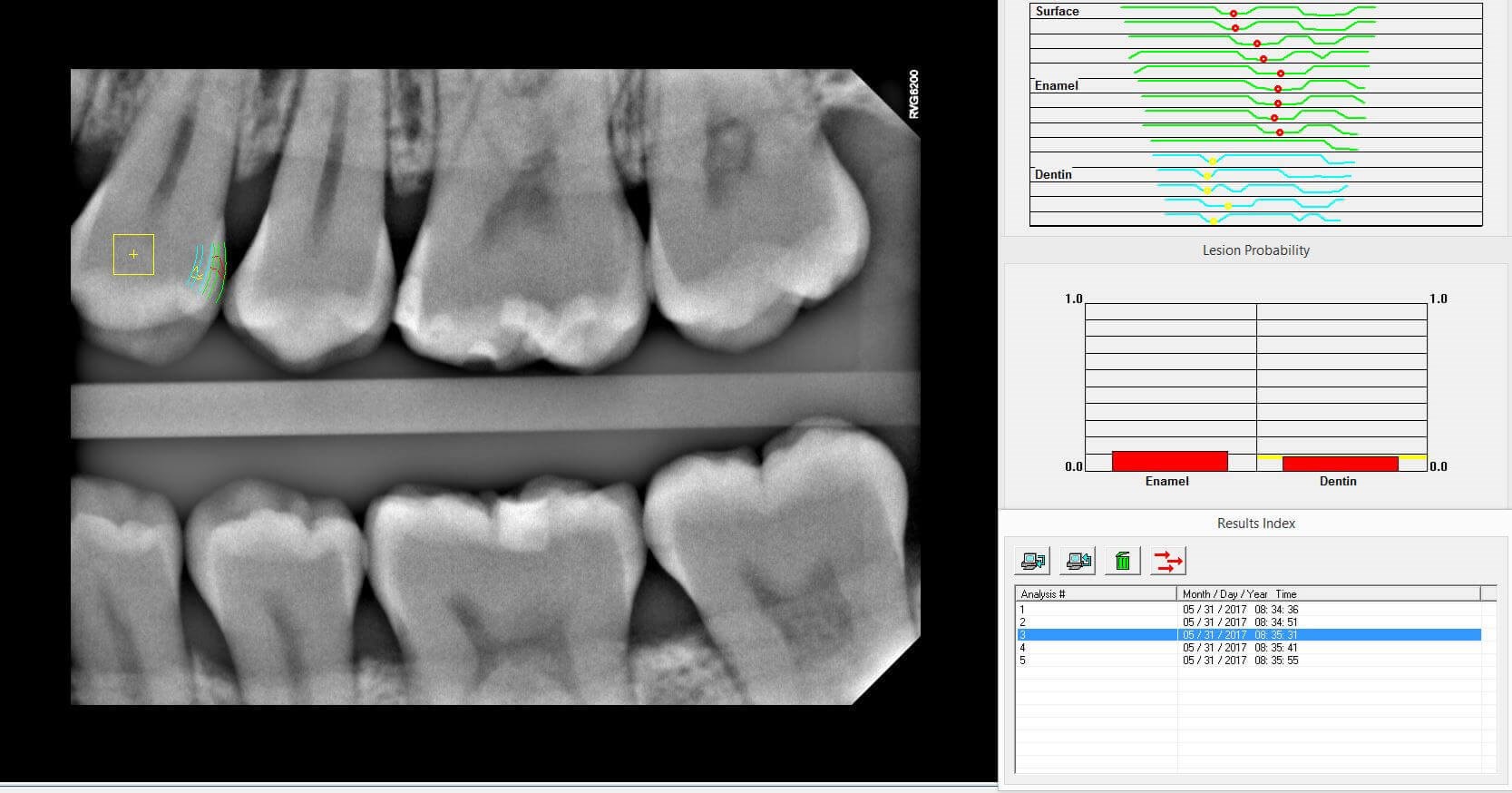 Reviews
"I absolutely love my dentist and all the work he has done on my teeth!! He cuts the crown right in the office and applies it the same day! My teeth have never looked better! He also knows how sensitive to pain I am and takes care that I don't feel pain! I can not say how very fortunate I am to have this dentist!"
- C.C. /
Google /
Aug 12, 2020
"Always a pleasant experience with doctor and staff!"
- B.J. /
Google /
Jul 29, 2020
"I have never felt such immediate confidence and ease with a dentist! I am so glad I found this office, staff is very sweet and The place is immaculately clean. I am actually looking forward to my extraction after meeting with Dr. Patel. I do not have insurance so I was really worried about the cost. I was pleasantly surprised with the extensive treatment plan and completely reasonable quote. I strongly recommend Dr Patel's office, gold stars across the board."
- C.D. /
Google /
Jul 27, 2020
"I was having pain and needed emergency dental work and I found Dr. Patel on Google. The staff was very kind and Dr. Patel went above and beyond to help me. I usually don't like the dentist at all but this was a good experience!"
- T.A. /
Google /
May 21, 2020
"Dr. Patel and his team were amazing . They do a great job of laying out the various options and have the latest equipment for the most pain free experience."
- A.S. /
Google /
Apr 25, 2020
Previous
Next
Patients of any age with any natural teeth are candidates to receive Logicon™ testing on digital x-rays taken in our practice. Patients with decay, older or failing restorations or sensitive teeth are ideal candidates. Logicon testing allows you to have the peace of mind that your decay or failing restorations will not be missed, hence this results in early diagnoses and more conservative treatment. It helps save your teeth.
Used since 2008 in our practice, Logicon™ is non-invasive and objectively focuses on surfaces that require further investigation to aid in diagnosing areas of decay and failing restorations. The software locates and classifies potential decay in between teeth. It saves and displays selected results for multiple high-risk surfaces on a single radiograph. It accurately shows information by indicating the penetration depth of caries and generates probability information on whether or not decay is present. It allows tracking classification and probability changes over a period of time with the ability to retrieve information about tooth density changes and lesion probability for each surface in graphical format. We can review results quickly and then store them for later use.
The results of your Logicon™ caries software testing will be provided when you receive your treatment plan consultation, so you will understand the results and any treatment options that are recommended.
Typically, insurance coverage for Logicon™ caries software testing is dependent on your insurance coverage for digital radiographs (x-rays). This will vary from policy to policy so our office may contact your provider to determine your coverage and out-of-pocket costs. Whether you have dental insurance or not, Our Melbourne, FL facility accepts many payment methods, and we can also help you find low- interest dental financing if it is necessary, visit our Payments and Financing page for more information.
Related Procedures